Join a group that has been awarded the "Supplier Relations and Responsible Purchasing" label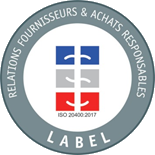 and which is based on good practices with its partners:
THE SUPPLIER'S RELATIONSHIP FROM A TO Z
To make it easier for you to contact the purchaser responsible for your product / service family, we would like to ask you to complete the evaluation questionnaire below:
and return it to us at the following address:
The analysis of your questionnaire and the attached documents will enable the purchaser to determine whether or not you are a potential supplier to the SCHMIDT GROUPE.
The examination of your dossier may be followed up by a visit or an audit at your premises.
All the information provided in this questionnaire as well as in the appended documents will be treated confidentially and will only be used by the Schmidt Groupe staff involved in the evaluation process.
Please keep the Excel file format and do not modify the structure.
Please complete at least tabs 1 (basic questionnaire), 2 (Commitment to confidentiality) and 3 (code of conduct). However, do not hesitate to complete the other tabs if you consider it necessary. The more complete your questionnaire is, the easier it will be to assess.
For further information: